Championship Boxing - Sheeraz VS Torres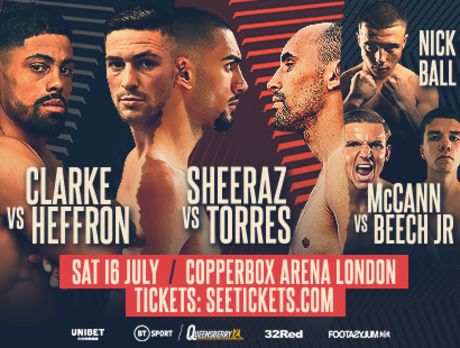 YOUNG BOXER OF the year Hamzah Sheeraz returns to the ring on July 16 on a night that includes a British title double featuring both Lennox Clarke and Nick Ball.
Sheeraz (15-0, 11 KOs) continues his quest at middleweight with a defence of his WBC International Silver title – won last time out via defeat of Jez Smith – against the Argentinean Francisco Emmanuel Torres (17-3-1, 5 KOs) over 10 rounds.
Birmingham's Lennox Clarke (20-1-1, 8 KOs) makes a first defence of his British and Commonwealth middleweight titles against another big banger in Oldham's Mark Heffron (27-2-1, 21 KOs) in what is certain to be a mighty collision, with the IBF Intercontinental championship belt also on the line.
The exceptional young bantamweight star Dennis McCann (12-0, 6 KOs) makes the jump up to featherweight in a fight over 10 rounds for the vacant WBC International Silver title against James Beech jr (14-2, 2 KOs), a two-time British title challenger at super bantamweight.
Southampton snapper Ryan 'The Piranha' Garner (11-0, 6 KOs) is back in an eight-round fight against the Mexican Christian Lopez Torres (13-18-2, 11 KOs) ahead of a likely title challenge next time out, with new Queensberry recruit Pierce O'Leary (9-0, 5 KOs) from Dublin fighting over eight at super lightweight.
The stacked card also features young light heavyweight star Karol Itauma (7-0, 5 KOs) in his eighth professional assignment over six rounds, with rising super featherweight Masood Abdulah (4-0, 4 KOs) appearing over the same distance.
Super bantamweight Umar Khan (3-0) and super lightweight Sonny Liston Ali (3-0) will compete in six-round contests, with welterweights Khalid Ali (2-0, 1 KO) and Sean Noakes (1-0) appearing in four-rounders.
Tickets for the show on Saturday, 16 July are priced from £55 - grab yours today!
Runs between Dates
16 Jul 2022
Buy Tickets
Back