Copper Box Arena announced as venue for Dizzee Rascal's 'Boy In Da Corner' gig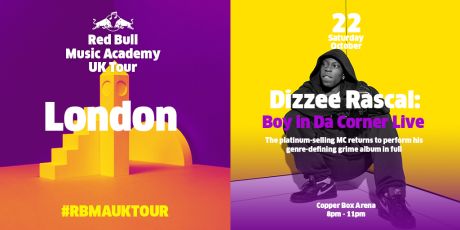 The Copper Box Arena in Queen Elizabeth Olympic Park has been confirmed as the venue to host the Red Bull Music Academy tour on Saturday 22nd October 2016, when platinum-selling MC, Dizzee Rascal, returns to the UK to perform his genre-defining grime album in full.
The Red Bull Music Academy will be on tour across the UK throughout October, calling in at four major UK cities and heads to London from the 19th - 22nd October 2016.
A stone's throw from where Dizzee Rascal grew up in Bow, the gig's previously secret venue was revealed today as the Copper Box Arena. After staging events during London 2012, the world-class sporting venue located at the heart of Queen Elizabeth Olympic Park in Stratford, is now the third largest arena in London. This event will undoubtedly see the venue keep true to its London 2012 reputation as the "Box That Rocks".
Russ Barnes, Partnership Manager at the Copper Box Arena, said:
"It's great to have such a well-known and respected artist performing at the Copper Box Arena and we're all looking forward to the show. As he grew up not far from us, I'm sure there will be a fantastic atmosphere.
"We're known for hosting major sporting events but we're getting more and more interest now to stage events from across the world of music and entertainment. The 'Box that Rocks' is like no other venue in London; Dizzee even came down to choose the venue himself!"
Ahead of the show, Red Bull Music Academy has created a short film looking back at 'Boy In Da Corner' and what the album really meant to so many that fell in love with the genre. Featuring fans, artists and some of the scenes key commentators, the film charts the influence this iconic album had on music culture in the UK at the time and to this day. With appearances from some of grime's key bastions such as; DJ Semtex, Logan Sama, I-D's Hattie Collins, Scrufizzer and Beats 1's Julie Adenuga, it's an anthology not to be missed.
Watch it here:http://www.redbull.com/uk/en/music/stories/1331817525825/looking-back-at-boy-in-da-corner
Full interview with Dizzee Rascal available here: http://www.redbull.com/uk/en/music/stories/1331816602006/dizzee-rascal-interview-the-grime-pioneer-speaks 
Back